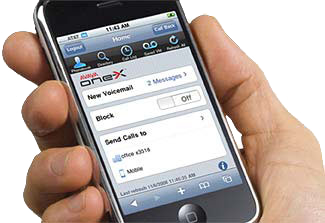 Whether traveling, teleworking from a partner's office, or roaming the main campus for meetings, Avaya one-X® Mobile lets a user quickly connect to the right people, at the right time. Users can access enterprise communications from a wide selection of mobile devices, including high-end smart phones and tablets. A choice of one-X Mobile clients is available for popular platforms including Apple iPhone, Google Android, RIM BlackBerry, and Nokia/Symbian.
Through integration with Avaya one-X® Client Enablement Services, one-X Mobile users have access to a broad range of Unified Communications capabilities such as visual voicemail, corporate directory, aggregated presence, VIP lists, and synchronized call logs and contacts. Avaya one-X Mobile gives users single number/single identity for both inbound and outbound calls, even when using personal devices.
Avaya also offers the Avaya one-X® Mobile Lite client, which delivers the Avaya Extension to Cellular feature set through a graphical interface without requiring the deployment of a client server. In addition, the Avaya one-X® Mobile SIP for iOS client provides users access to their enterprise communications (SIP only) from Apple iOS devices including iPhone, iPod Touch, and iPad via a WLAN or cellular data network.